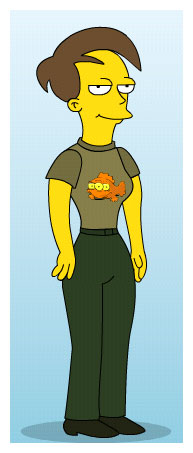 Opening this month — on my birthday, even! — is The Simpsons Movie. I've never considered myself a super fan of The Simpsons. I don't go out of my way to watch it, or try to get other people to watch it. Yet I have seen a lot of it over the years and often find it to be hilarious. Mr. Burns is one of my favorite cartoon characters ever; I've had a little paper cut-out of him looking particularly hunched and evil on my computer monitor at work for several years now. I love to say the last name of Apu, the owner of the Kwik-e-Mart (all together now… "Nahasapeemapetilon"). Some of the episodes have assumed the status of classic in my mind (Homer at the chili cook-off; the one where Marge takes up painting and does a portrait of Mr. Burns in the nude). It's infinitely quotable. So why am I not "a fan"? I guess it's because, at 18 years and counting, it seems to be an unstoppable entertainment juggernaut that doesn't need my help.
I probably wouldn't comment on the movie either if its web site wasn't so damn cool. It's quite an amazing Flash creation, with games and other interactive content scattered all over the place. My favorite item is the avatar creator, where you can create your own Simpsons characters with a range of body shapes, skin tones, noses, hairstyles, and clothes. Judging by their verbiage, it sounds like saved avatars (you have to create an account on the site to save your avatars) may start popping up on the site as random content. Interesting…
Anyway, the graphic you see on the right is one of the avatars I've made, the one that's supposed to look like me. Voilà, Jed Simpson.